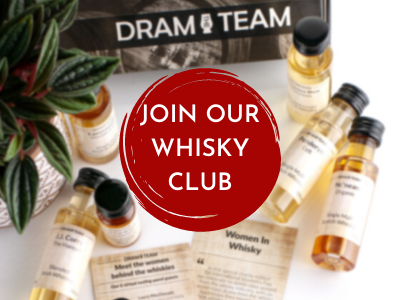 Join the UK's most premium whisky tasting club
Get an out-of-the-ordinary whisky tasting delivered every 2 months and save over 10% on every box as a member.
Explore 6 high quality, interesting whiskies, including our unique, super-premium Sixth Dram and find a whole world of new favourite whiskies!
Cancel any time - No commitment ever.


...Or give a gift
From one-off whisky tasting boxes, to a gift subscription to our tasting club, give the gift that keeps on giving!
Gift subscriptions are easy to gift and manage: they're pre-paid, so you don't need to remember to cancel it later on. Gift notes and a welcome letter are included as standard.
Order to yourself to gift on the day, or directly to your lucky recipient.
How does it work?
1. We select six premium whiskies and create our out-of-the-ordinary tasting sets.
We focus on Scotch and single malts, featuring limited editions alongside well-loved classics.
2. You join the club, or give as a gift... and we send the first box straight away.
The first box is sent straight away by next-working-day premium UK courier service. Gift notes available for last minute direct shipping!

3. Enjoy a luxury whisky tasting at home, with bespoke tasting cards full of whisky info.
Become a whisky expert in no time and explore up to 36 amazing drams in a year! Boxes come every 2 months, and you can pause or cancel at any time.
4. Buying for someone else? We make gifting easy!
Choose one of our pre-paid 3 or 6 box gift subscriptions, and get it sent to yourself to gift in person, or straight to your lucky recipient. Click the button below to learn more about gifting.
Whisky tasting set for Christmas 2023, featured sherry matured whiskies that are perfect for December festivities.
What our customers say...
"I bought my husband a subscription as a wedding anniversary gift and he loved it as he got to try lots of different whiskies and some that he hadn't heard of before. Service was always quick and any queries always answered quickly. The selection of whiskies is brilliant and the box they come in is also lovely with a card that tells you about the whiskies. I highly recommend!"
"Such a cool gift idea!"

Faye C. 

(West Wickham)

"I do enjoy a good Whisky, love to sample some of the more expensive choices, this gives me the choice to sample these without spending a lot of money on potentially a Whisky that I'm not to fond of, really good for trying before buying a larger bottle. Always well packaged and a great description of taste and nose. Excellent customer service always respond promptly."
"Can't go wrong" 

Paul H. 
(Leeds)

"I have bought 2 separate subscription boxes as gifts. How fantastic to get a gift that keeps giving!!?? Amazing quality packaging, whiskey info and of course the actual whiskeys. My pals have been chuffed with their boxes. I also have to mention the customer service.... the staff have been great at dealing with my annoying questions. Very personal fast service. Deserve the 5 stars." 
"A gift that keeps giving!"

Emma M. 
(Glasgow)


"I had researched a lot into local yet quirky subscription providers and was not disappointed with the recent purchase from The Dram Team! The level of service went beyond my expectations from a simple inquiry to the detail involved with my order. Chris is very approachable and attentive. The Whisky received provides an enjoyable variety both for the experienced Whisky lover and the new explorer. Would gladly recommend!"
Fantastic Whisky and service! 


Cat A. 
(Edinburgh)